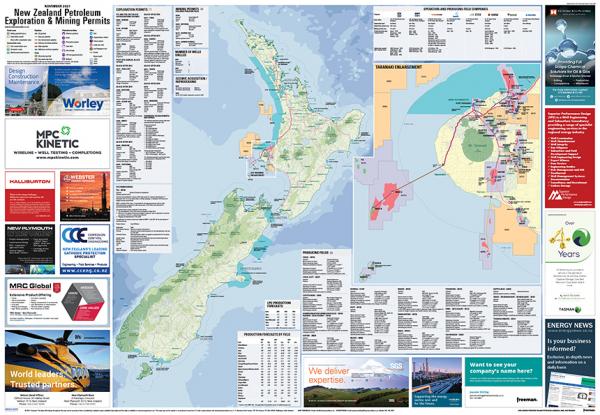 The New Zealand Petroleum Exploration and Mining Permits Map is a large 1.2m x 0.83m poster detailing all of the petroleum permits in New Zealand.
The map shows current permit boundaries, seismic permits and multi-client lines, operator and partner names and stakes, recent annual and quarterly output statistics, reserves numbers, relevant New Zealand Petroleum & Minerals work programme commitment deadlines, plus a summary of all major producers showing their contact details, overall permit coverage, exploration lead details, gas and liquids pipelines, water depths and field structure shapes.
Major gas users, gas treatment plants and cogeneration stations in the Taranaki region are also displayed showing details of their annual gas production capacity, annual gas demand and electricity output respectively.
For further information please contact:
James Harvey
Designer
Freeman
m +64 21 453 485
e james.harvey [at] freemanmedia.co.nz