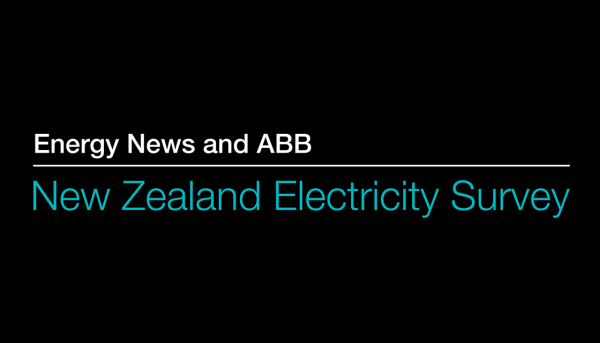 Sponsored by 


In today's information society, a prompt and accurate flow of information is critical for decision-making at all levels. Expert opinions, research and accepted methodologies are well tested and complemented by surveys. Increasingly the digital age is making tools like surveys a vital part of any decision-making process.
Energy News and ABB are again proud to present the New Zealand Electricity Survey in 2018.
2018 New Zealand Electricity Survey Advisory Panel
John Hancock (Chair)
John Hancock is an independent consultant to utility companies and their suppliers. He is the independent chair of the Electricity Authority's Wholesale Advisory Group, secretariat to the NZ Smart Grid Forum and has chaired the advisory panel for this survey since its inception in 2012.
Jenny Cameron – ERANZ
Jenny Cameron joined ERANZ as its inaugural Chief Executive on 23 February 2016.
Ms Cameron joined ERANZ from the Brewers' Association of Australia and New Zealand where she held the role of Director of External Relations. Prior to this, Ms Cameron served as a diplomat with the NZ Ministry of Foreign Affairs and Trade including a posting in Tokyo, and an assignment in Manila. She provided policy and legal advice in areas of trade policy, bilateral relations, international agreements, and environmental law. Before joining MFAT, Ms Cameron practiced law at Jacobs Florentine in Palmerston North.
Ms Cameron holds a BA (Psych) and LLB from Victoria University.
Craig Evans – Electricity Authority
Craig is Manager Retail and Network Markets at the Electricity Authority of New Zealand. He leads the team developing electricity market arrangements that deliver long-term benefits to consumers from the greater choice and control over their electricity supply that technology is now making possible.
Louise Griffin – Contact Energy
Louise joined Contact in 2008 and has held roles in communications, regulatory affairs and as an advisor to the CEO. These roles, coupled with her time working on the Kupe Gas Project have provided her with an in depth understanding of New Zealand's gas and electricity sectors.
Before joining Contact Louise was a consultant at an award winning New Zealand communications consultancy. Louise holds an LLB from Victoria.
Tony McGlennon – Gentrack
Tony is Gentrack's New Zealand Country Manager and has been working across the energy sector for 10+ years, delivering essential software solutions for retailers and networks. He is actively engaged with energy utilities, spearheading all aspects of Gentrack's service delivery business in NZ and the Pacific.
Ewan Morris – ABB
Ewan Morris is the Managing Director of ABB New Zealand, a role he has held since March 2014. He has been with ABB since 1988, and has enjoyed a long and extensive career in the company across five countries including New Zealand, Australia, Sweden, Malaysia and Switzerland. This has seen him gain 20 years' professional experience in international industrial sales, marketing, product and service management.
Andrew Renton - Transpower
Presently working in the Grid Development Division. My role involves investigating and providing holistic, pragmatic and strategic advice, on suitable and cost effective transmission solutions as well as new developments and technologies. One of the most rewarding aspects the role involves explaining in an easily digestible manner, to a wide audience with various levels of technical understanding how electricity is generated, and transmitted and what is possible both technically and economically. My previous roles at Transpower have included the Asset Development Engineering Manager responsible for all substation and transmission line engineering development work.
Greg Skelton – Wellington Electricity 
Greg has been the Chief Executive of Wellington Electricity since April 2009. Prior to his appointment as Chief Executive, Greg was the Chief Executive of Alpine Energy Limited and has held various senior management roles in the electricity industry. Greg has 30 years of experience in the fields of production engineering, electrical engineering and business management. Greg holds a Bachelor's degree in Electrical Engineering, a Master's degree in Business Administration and is a fellow of the Institute of Professional Engineers of New Zealand.
Charles Teichert – Nova Energy
Mr Teichert has been with Nova Energy since 2000 and is currently responsible for strategy development, key commercial arrangements, commodity risk management and regulatory affairs. Prior to his role with Nova Energy, he began his career in the energy sector joining the ECNZ wholesale electricity trading team in 1996 followed by short stints at Genesis Energy and Contact Energy.
Mr Teichert has a degree in Accounting and Information Systems from Otago University after which he became a Chartered Accountant (now retired) with Deloitte based in Wellington.
Neil Wembridge – Freeman Media
Neil Wembridge is the General Manager at Freeman Media, which sees him take responsibility for the commercial side of the energy sector products of Freeman Media, including all events, map products, surveys, stakeholder management and business development.
Neil came to Freeman Media from a role as a strategic consultant to the New Zealand energy sector based in Wellington. He previously worked for Total and Oracle in the UK.
Angus Watson – Meridian Energy
Angus Watson is the Energy Modelling Analyst within Meridian's Strategy and Performance Team. This team is responsible for monitoring and advising the executive team on opportunities across the electricity sector, in addition to exploring different time horizons from both an operational and strategic focus. Prior to this he worked as a Wind Engineer after graduating as Mechatronics Engineer from University of Canterbury.