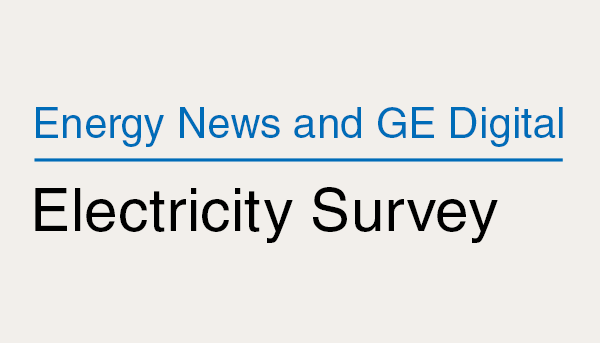 Sponsored by 
GE Digital 
In today's information society, a prompt and accurate flow of information is critical for decision-making at all levels. Expert opinions, research and accepted methodologies are well tested and complemented by surveys. Increasingly the digital age is making tools like surveys a vital part of any decision-making process.
Energy News and GE Digital are proud to support the New Zealand Electricity Survey in 2021. 
This year marks 10 years since the survey's inception, and it is now a key source of industry insight. The 2021 survey results are now available from the following link.
2021 SURVEY RESULTS AVAILABLE HERE
2021 Survey Advisory Panel
Kevin Hart – APAC & India Regional Leader, GE Digital Grid, GE Digital Grid

Kevin Hart, an industry veteran with more than thirty years' experience in the energy sector, was previously GE's CEO for New Zealand and Papua New Guinea before taking on his current role of Asia Pacific & India Regional Leader for GE's Digital Grid business. Prior to GE, he was General Manager, Business Development at specialist international engineering consulting firm, Power Systems Consultants following seven years at French energy multi-national firm Alstom Grid as New Zealand's Country Director. Previously, Kevin has held senior management positions at New Zealand's nation grid company, Transpower in commercial, IT development, market operations along with business development roles in subsidiary company Energy Market Services (formerly d-cypha). In his current role as Asia Pacific & India Regional Leader for GE's Digital Grid business, his focus is on the commercial development and growth of GE's digital activities in the transmission & distribution sectors across New Zealand, Australia, Asia and India. With a colourful and varied career, Mr Hart originally trained as a HV electrical engineering design draughtsman with the NZ Ministry of Energy, later establishing a private architectural design practice in Colorado USA. Mr Hart is a former New Zealand Judo representative and has competed internationally and previously trained at the US Olympic Training Centre with the US Judo team.

John Hancock (Chair)

John Hancock is a well-known energy utilities consultant and commentator. He chairs the Electricity Authority's Innovation & Participation Advisory Group and is a member of Expert Advisory Group for the Government's Electricity Price Review. Much of his experience draws on his unusual combination of deep experience in both technology and deregulation – key dimensions of the strategic environment in the sector. John has worked in the utilities industry around the world for nearly 30 years, including 14 years with Ernst & Young Consulting, Capgemini and Hewlett Packard in the Asia Pacific.

 

Fiona Smith – General Manager Customer Operations, Trustpower

Fiona joined Trustpower in 1996. Holding a number of senior roles at Trustpower, her career has focused on leading and implementing change that supports our multi utility proposition and values our customer's experience. In her present role, Fiona is responsible for the Customer Operations business; this encompasses almost all customer touch points and includes meter reading, provisioning, billing, collections and our Contact Centre. Excited by the prospect of leading change across the constant emergence of new technology Fiona is focused on leveraging data, technology and good old-fashioned service to ensure her teams meet the changing needs of our customers. Fiona is a member of the NZ Institute of Directors, has spent two years on the board of the local Chamber of Commerce and sits on a number of external working parties within both the Telco and Electricity Industries.

 

Andy Burgess – Head of Energy, Airports and Dairy Regulation, Commerce Commission

Prior to joining the Commerce Commission Andy lead the UK's Office of Gas and Electricity Markets (Ofgem) work on electricity access and non-residual charging and the teams dealing with emerging issues such as storage, local energy and electric vehicles. He led Ofgem on the joint Smart Systems and Flexibility Plan with Government and jointly chairs the Ofgem-BEIS Smart Systems Forum. Andy has previously held a number of posts at Office of Rail Regulation (ORR), including leading European Policy, developing ORR's strategy and corporate planning, and managing regulatory oversight of commercial access contracts for rail infrastructure.

Karen Frew – General Manager Service Delivery and System Operations, Powerco

Karen Frew leads Powerco's Electricity Service Delivery and Operational Teams. She joined Powerco in 2002.Karen holds an electrical engineering degree and diploma in management. She is a chartered engineer with 25 years' experience in distribution, generation and large industrial sectors in New Zealand and UK. She has held leadership roles across Powerco in engineering, asset management, strategy, system project delivery, regulation and most recently service delivery and operations. She was the winner of the NZ energy awards young executive of the year in 2013.

Andy Sibley – Chief Executive Officer, Simply Energy

Andy came to Simply when it joined forces with Contact in 2020. During his nine years at Contact, his focus on people before process delivered significant business improvements and shifts in culture within the teams he led as Engineering Manager, Head of Operations Support and more recently General Manager Innovations and Ventures.

Catherine Soper – GM Government and Regulatory Affairs (Acting) GM Sustainability, Genesis

Catherine is the GM Government and Regulatory Affairs, and Acting GM Sustainability at Genesis, one of NZ's largest energy companies. This senior role within the company sees her lead work traversing regulatory change in a decarbonising economy, providing advice and analysis on sustainability, innovation and technological change, the Just Transition, energy hardship and security of supply. Her 17 year career across both the public and private sectors has had a strong focus on policy and regulated industries including roles at MBIE, DPMC, Parliament, Vodafone and Air New Zealand. Catherine holds a BA (Hons) and a Masters of International Studies from the University of Otago.

James Tipping – Chief Strategy Officer, Electricity Authority

James works across the Authority to bring leadership and excellence to our work programme and to the evidence that underpins the Authority's decision-making. James has more than 17 years' experience working in strategy, analytics, policy and regulatory roles in the energy sector in New Zealand and in Europe. James's most recent leadership role was at Trustpower as the Strategy and Portfolio Manager, having previously led Trustpower's regulatory engagement for a number of years. His international experience includes consulting for Redpoint Energy, one of Europe's leading energy consultancies.

Andrew McLeod – Chief Executive, Northpower

Andrew joined Northpower as Chief Executive in 2017 and has a background in infrastructure management and construction management, spanning the electricity, oil and gas, and water utility sectors. Andrew is responsible for ensuring appropriate performance and positioning of Northpower's group of businesses, with a focus on ensuring appropriate returns and outcomes for Northpower's consumer owners.

Shailesh Manga – Chief Digital Officer (CDO) and Head of Vector Technology Services, Vector

Shailesh Manga leads Vector's digital team and is responsible for managing the company's digital and IT functions. He is charged with harnessing the performance of both existing and emerging disruptive digital technologies to ensure Vector is able to provide reliable, relevant and innovative services, and compete in the modern customer driven energy marketplace. His experience is unique and vast, having worked both locally and globally in the fields of physics, telecommunications, user experience and innovation. In his last role, Shailesh worked with some of the world's best known brands including Google, Microsoft, Samsung and LG, helping them deliver innovative experiences.

Steve Rotherham – Editor, Energy News

Steve grew up in Christchurch but spent most of his career in Australia. He is a former editor of Perth-based online publication PetroleumNews.net (now known as Energy News Bulletin). He has also held corporate communications roles with the Australian Petroleum Production & Exploration Association and the Australian Automobile Association. He joined Freeman as editor of Energy News in late 2019.

Irwin Munro – General Manager, Freeman

Irwin is the General Manager at Freeman, which sees him take responsibility for the commercial side of the energy sector products of Freeman, including all events, surveys, stakeholder management and business development.
Download previous survey results below
Click here to view the 2021 survey results
Click here to view the 2020 survey results
Click here to view the Part Three 2019 Survey results
Click here to view the Part Two 2019 Survey results
Click here to view the Part One 2019 Survey results