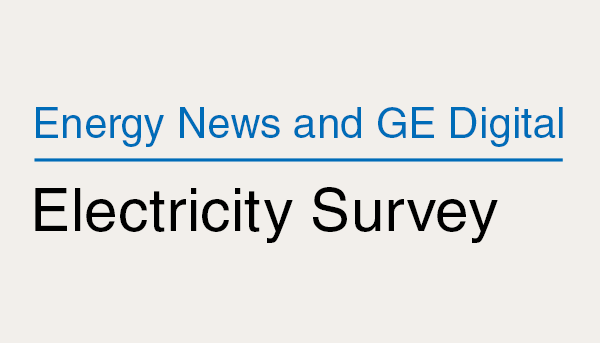 Sponsored by 
GE Digital 

In today's information society, a prompt and accurate flow of information is critical for decision-making at all levels. Expert opinions, research and accepted methodologies are well tested and complemented by surveys. Increasingly the digital age is making tools like surveys a vital part of any decision-making process.
Energy News and GE Digital are proud to present the New Zealand Electricity Survey in 2020. 
This year marks nine years since the survey's inception, and it is now a key source of industry insight. New for 2020 is a question that will allow the organisers to produce a forward price path for residential consumers and the wholesale price in New Zealand. 
The other big issues being polled include:
The impact of gas supply and demand on the electricity sector
Divided opinions around the Lake Onslow 'NZ Battery' pumped hydro project
The biggest people issue for the sector
Who can deliver system-wide benefits from DER integration
2020 Survey Advisory Panel
Kevin Hart - Asia Pacific Regional Leader, GE Digital Energy & GE New Zealand Country Leader

Kevin Hart, an industry veteran with more than thirty years' experience in the energy sector, was previously GE's CEO for New Zealand and Papua New Guinea before taking on his current role of Asia Pacific Regional Leader for GE's Digital Energy business. Mr Hart has also retained his role as Country Leader for all of GE's businesses in New Zealand. Prior to GE, he was General Manager, Business Development at specialist international engineering consulting firm, Power Systems Consultants Ltd following six and half years at French energy multi-national firm Alstom Grid as New Zealand's Country Director. Previously, Kevin has held senior management positions at New Zealand's nation grid company, Transpower in commercial, IT development, market operations along with business development roles in subsidiary company Energy Market Services (formerly d-cypha), specialising in energy hedge product development and trading. In his current role as Asia Pacific Regional Leader for GE's Power Digital business, his focus is on developing GE's digital activities in the power generation and T&D sectors across Australia, New Zealand, Asia and the Pacific.

With a colourful and varied career, Mr Hart originally trained as a HV electrical engineering design draughtsman with the NZ Ministry of Energy, later establishing a private architectural design practice in Colorado USA. Mr Hart is a former New Zealand Judo representative and has competed internationally and previously trained at the US Olympic Training Centre with the US Judo team.

John Hancock (Chair)

John Hancock is a well-known energy utilities consultant and commentator. He chairs the Electricity Authority's Innovation & Participation Advisory Group and is a member of Expert Advisory Group for the Government's Electricity Price Review.

Much of his experience draws on his unusual combination of deep experience in both technology and deregulation – key dimensions of the strategic environment in the sector. John has worked in the utilities industry around the world for nearly 30 years, including 14 years with Ernst & Young Consulting, Capgemini and Hewlett Packard in the Asia Pacific.

Neil Cowie - Chief Executive Officer, solarcity

Neil Cowie is the Chief Executive Officer of solarcity New Zealand, a role he has held since October 2019.  Prior to this he was CEO of Mitre10 New Zealand, and has held executive positions in the retail sector both in New Zealand and international markets for the past 30 years.  This experience has provided Neil with a deep understanding of consumer behaviour and insights from a sector that has had to continually reinvent itself.  Neil is currently a board member of Cooperative Business NZ, and in 2017 he was awarded Co-operative Leader of the Year. 

Briony Bennett - Senior Policy Advisor - Energy Markets Policy, Ministry of Business, Innovation and Employment

Briony started her career as an electricity trading systems analyst at the European Power Exchange (EPEX Spot) in 2014 after completing a Masters in international energy economics and policy at Sciences Po in Paris, France. She went on to work as a renewable energy policy analyst at Bloomberg New Energy Finance in London, U.K. before returning to New Zealand and undertaking a role as an energy & carbon analyst for Genesis Energy. She currently lives in Wellington and works for the energy markets policy team, as a Senior Policy Advisor, at the Ministry of Business, Innovation and Employment.

Nick Russ - General Manager Regulation, Commerce Commission

Nick Russ manages the Commission's regulatory functions across a number of sectors, including electricity lines, gas pipelines, major airports, telecommunications, and dairy. He was previously Head of Part 4 and Dairy. Nick joined the Commission in November 2010 as a Chief Adviser in the Regulation Branch working across a range of regulatory issues. Before joining the Commission he spent a number of years working for energy regulators in the UK and Australia. Nick has a degree in electrical engineering and is a chartered engineer.

James Tipping - Chief Strategy Officer, Electricity Authority

James works across the Authority to bring leadership and excellence to our work programme and to the evidence that underpins the Authority's decision-making. James has more than 17 years' experience working in strategy, analytics, policy and regulatory roles in the energy sector in New Zealand and in Europe. James's most recent leadership role was at Trustpower as the Strategy and Portfolio Manager, having previously led Trustpower's regulatory engagement for a number of years. His international experience includes consulting for Redpoint Energy, one of Europe's leading energy consultancies.

Josie Boyd - General Manager Network, Northpower

As General Manager Network, Josie is responsible for leading the engineering, asset investment, customer, operational, commercial, and regulatory aspects of Northpower's electricity network business. Josie is also a director of Northpower Fibre. Josie joined Northpower in 2011, was its General Counsel for a number of years and prior to that worked in New Zealand and the UK in a range of private practice and in house corporate roles in the utilities, construction and professional services industries.

Dr Julie MacArthur - Senior Lecturer, Faculty of Arts, The University of Auckland

Dr Julie MacArthur hails from Vancouver, Canada. Prior to joining the University of Auckland, Julie worked in South Korea, Australia, Canada and England in a number of government, research and teaching roles.

Julie is currently working on two research projects. The first investigates the nature and politics of community renewable energy in New Zealand, Denmark and the United Kingdom. The second explores the role of women in New Zealand's electricity sector (2018-2020).

Josh Riddiford - Deputy Editor, Energy News

With a background in journalism and public policy analysis Josh has been reporting for Energy News since 2017. In 2019 Josh was made Deputy Editor in recognition of his competency and energy sector knowledge.

Irwin Munro - General Manager, Freeman

Irwin is the General Manager at Freeman, which sees him take responsibility for the commercial side of the energy sector products of Freeman, including all events, surveys, stakeholder management and business development.
Download previous survey results below
Click here to view the Part Three 2019 Survey results
Click here to view the Part Two 2019 Survey results
Click here to view the Part One 2019 Survey results